Photoflash Coach Hire Scotland, UK & Europe
The late 1970s saw the very early years of the "Photoflash" name; now celebrating 35 years in business. Jim Purdie was a photographer living in Law Village. A commercial property was available at Law Cross and we had the birth of Photoflash.
Jim quickly established himself as a wedding and portrait photographer primarily in the Lanarkshire area. Jim, also having passion for horses and show jumping in particular, could be found photographing events.
There was also natural progression to add video to portfolio of services as the "Wedding Video" business was by this time very popular.
Very quickly the "Photoflash" name became synonymous with weddings, children's portraiture and horses!
Jim had also expanded into the world of black and white film processing and printing, providing a mail order service with customers all over the UK. How on earth then did we end up with coaches? Read on and all will become clear!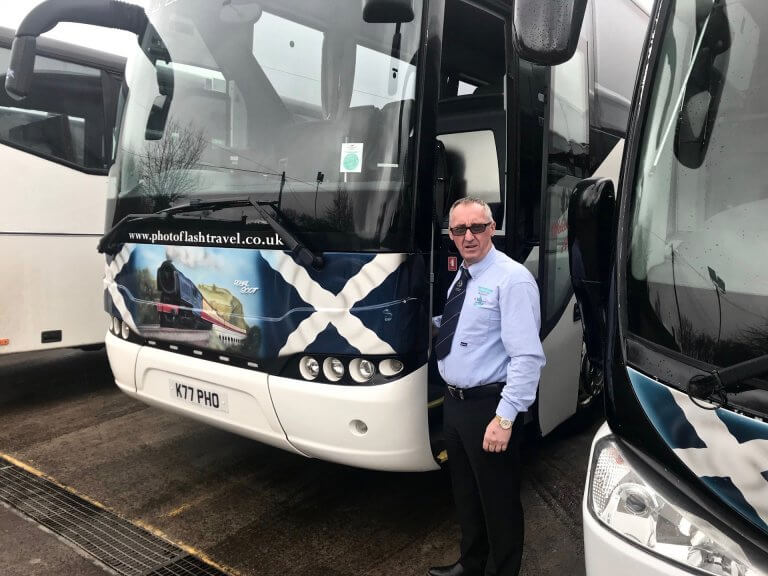 Jim quickly identified a further business opportunity. As the wedding business was largely seasonal with most couples choosing the warmer summer months for their wedding (if you can ever call Scottish summer warm!). This meant there was time to develop additional business opportunities if the right idea came along. It didn't take long!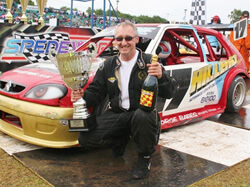 Kenny Purdie, owner of Photoflash, recently triumphed in the European Stock Car Championships.
Racing in the 2.0 Hot Rods Category Kenny triumphed from a field of 38 including the World Champion.
A fantastic achievement for Team Purdie!!
Jim realised that there was an opportunity to build a taxi service in the Law and Carluke areas. Very soon, Photoflash taxis were to be seen everywhere, having grown from one cab to six very quickly. Contracts were secured with the local blood transfusion service to provide out of hours transport of emergency blood as well as contracts with the local education authorities.
Very quickly, it was obvious that the business had outgrown the Law Village shop/office and alternative premises were sought. Carluke was a natural as by this time the transport business was operating throughout Clydesdale District and all over Glasgow and indeed Central Scotland.
Carluke based jam makers R&W Scott had a property for rent in James Street, Carluke. Contracts were exchanged and the Photoflash business motored on.
Land adjacent to the James Street office was initially rented and then purchased and the business expanded by building is own garage for the purpose of vehicle maintenance for the core business as well as the public.
The next area of development was the brainchild of Kenneth, Jim's son, who was by this time a partner in the business. Photoflash Coaches was born.
Contracts with National Rail and many leading national transport companies followed. The opportunity arose to purchase the original offices in James Street along with the large attached garage. This was done and brings us to where we are today – and what about Jim, the original founder? He is still to be found daily causing choas – sorry, having meaningful input – in the office.
Despite the enormous progress in the core business, unfortunately one area has never managed to progress – the coffee machine is still rubbish!
We live in hope!